New Odyssey for
Preschoolers – 3 year olds!
Our budding 3 year olds, The Globetrotters, are at an exciting stage of discovery and self-awareness.  The classroom is arranged to help nurture this growth.  The Globetrotter classroom features materials and activities to prepare students for Pre-K, both our private Pre-K program as well as the Georgia Lottery funded Pre-K program.  The various classroom centers and learning domains focus on math and science explorations, literacy and reading comprehension, and even early computer skills.  This class also provides your child with an opportunity to transition smoothly and assimilate to school routines before beginning Pre-k with us.
Key Features of our Globetrotter Program:
Our three year olds come to New Odyssey for Children ready to learn, make new friends, and enjoy group and individual activities.  The look forward to school each and every day.
Teachers are focused on choosing unique activities for each child, engaging in meaningful interactions and expanding and enhancing the language concepts of the three year olds.

Low teacher to child ratio (1:10) allows us to better meet the individual needs of each child

Primary care groups give us the ability to implement small group activities with children at the same stage of development

An individualized report is provided to parents on a daily basis detailing their child's activities of the day.  For our three year olds, we have also implemented a two way communication system whereby the parents can inform us of any changes to their child's routine which may have an impact on their time at school.

Our classroom management system is designed for children to choose the centers in which they play, allowing teachers to monitor activities to ensure a well rounded and balanced experience in each area

Twice daily visits to the developmentally and age appropriate playground (weather permitting), equipped with a tricycle path, hoot and holler and a flower garden, which is used to teach children how things grow and how to take care of living things.
Get started today!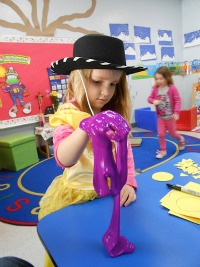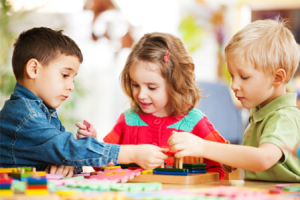 Preschoolers at New Odyssey for Children enjoy a curriculum that promotes physical and cognitive development through play and expiration.  Learning and creativity are incorporated into free and structured activities during a preschooler's day.  A kindergarten-readiness based curriculum continues to strengthen academic skills while small and large group activities promote the development of social skills.
Learning areas focused on dramatic play, mathematics, creative arts, language and sensory exploration
Age-appropriate activities and materials that develop confidence, self-esteem, and a love of learning
We encourage good communication and manners (yes, please, no and thank-you)
We continue to develop self-help skills — zipping and buttoning skills, brushing teeth and hand washing, to name a few
Join Us Now!