New Odyssey
Preschoolers – 4 year olds
Our 4 year old program, aka Private Pre-K, is the perfect environment for your child's last year before Elementary School. Whether your child's birthday falls short of the Georgia Pre-K cutoff, or you just prefer the lower ratio and one-on-one attention your child will receive in our Scholars classroom, it's an educational experience you and your child will value for a lifetime.
Why choose New Odyssey for your Scholar?
Our Scholar's program provides lessons to help facilitate and solidify topics so that they hit the ground running when starting kindergarten.  We also provide your child with a means of exploring creativity through new learning exercises. In addition to strengthening socialization skills — how to compromise, be respectful of others, and problem-solve — preschool provides a place where your child can gain a sense of self, explore, play with her peers, and build confidence.
Teachers are focused on engaging in meaningful interactions, introducing new concepts and vocabulary words when possible, and tailoring small group and individual activities to challenge each child at his or her own pace of development

Low teacher to child ratio (1:10) allows us to better meet the needs of each child
Frequent parent / teacher interactions to ensure everyone is keep informed of developmental and cognitive learning progress as it pertains to kindergarten readiness (This is over and above the semi-annual parent/teacher conferences)
Get started today!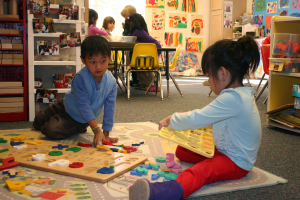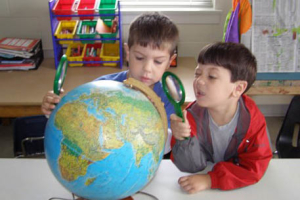 4 year olds at New Odyssey for Children follow a curriculum and weekly lesson plans that focus on cognitive, physical and social development, including self help skills.  Each day includes a balance of teacher lead activities and child initiated free play to ensure a well rounded educational experience during the year.
Cognitive Development:

Early math concepts include number recognition, counting, geometric shapes, seriation,  and classification.
Emergent literacy skills include experiences in beginning reading and writing, including mastery of the pincer grasp to facilitate handwriting activities.
Continued studies in science to enhance prediction and experimentation skills,  and social studies to introduce concepts early economics using the Junior Achievement program.

Physical Development:

Fine Motor Skill Development is accomplished in many ways such as cutting with scissors, lacing, manipulating small pieces to make designs and writing letters with accuracy and intelligibly
Gross Motor Skill Development:  Moving in non-locomotor ways (anchored movement) and  in locomotor ways  non-anchored movement), as well as balancing and moving in sequences to a common beat.

Social Development:

Learning to take initiative by making and expressing choices and solving problems
Learning social relation skills by being sensitive to the feelings, interests, and needs of others and enjoying collaborative play
Learning self-help skills such as putting on and zipping jackets, proper hand washing skills, and even how to tie shoes!!